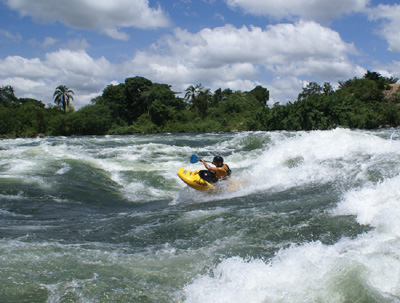 Uganda is home to one of the greatest kayaking rivers on the planet - the mighty White Nile.
Kayaking the White Nile
Described by many as the world's ultimate kayak destination, the White Nile has something for everyone. With options to run class II-III lines through to full-on class V, and the finest surf waves on any river - you really can't get much better than this! More...
Learn to Kayak in Uganda
Whilst the White Nile maybe a whitewater kayakers and playboaters dream it is also the perfect river for the complete beginner. More...
Multisport Adventures
Mountain Gorilla safaris, whitewater rafting, mountain biking, canoe safaris and kayak lessons. More...
Uganda Facts
Location

Capital: Kampala
Language: English (official), Kiswahili, other Bantu and Nilotic languages
Currency: New Shilling
Exchange Rate:

Time difference: GMT +3
Population: 27,623,000
Area: 91,351 sq miles
Pop density: 303 (persons per sq mile)